Introduction
Overview
Trends
Colour
Fibre
Yarn
Structure and Pattern
Pitti Filati 81: Florence, Italy
june 2017

autumn/winter 2018

Report: Noel Chapman

Introduction

'New fashion and lifestyle trends start here' so read the Pitti Imagine website introduction to the series of shows that culminated in the 81st Pitti Filati Fair. Certainly for many, Pitti' is if not the very beginning of the next season – as much work and planning has often already gone on - is the public airing of ideas, the kick-start that begins to really give the season shape and form, something real and tangible from which to build upon, an insight into what everyone else is thinking and has been working on, that helps to put one's own ideas into the seasons own, new and particular matrix. The official Pitti' line continues. . .

Pitti Filati presents world-scale excellence in yarns to its audience of international buyers and designers from the biggest names in fashion who come to Florence looking for creative inspiration, in a unique atmosphere that makes doing business a pleasure, offering a new, original entertaining take on the many ways that fashion, art, sport and design come together.

Once again the Italian spinners rallied to present a strong cohesive show, highlighting their expertise, their understanding of the ever-evolving market place, Italy's international fashion status and the importance of stimulating and inspiring the market with newness, and the refinement of developing and ongoing seasonal trends.

Overview

Constantly evolving and updating, this seasons' Pitti was once again re-organised and shuffled around the exhibition space, to provide freshness and accommodation for the different elements of the show which include; Fashion At Work, Knit Club, Feel The Yarn, Vintage Selection, and a whole new area for the Spazio Ricerca:

The Pitti Filati Spazio Ricerca, the fair's creative lab/workshop and experimental observatory where the coming seasons' trends are analyzed and launched, will be showing off a new, more potent formula, and will do so in a new, strategic location: Hall M. The theme for this season is THE HUMAN EDITION. In a general climate characterized by a lack of clear direction, where everything seems possible, 2018-19 FW season will put man, that is us, with all of our most natural needs at the center of attention. It is a concept that will be implemented through important and autonomous decisions. The exhibition-research project is unique, and it will be referenced by other areas of the fair. Artistic direction by fashion designer Angelo Figus and knitwear expert Nicola Miller; setting by Alessandro Moradei.

In another part of the Fortezza da Basso (the site of the fair), a workshop was held to air more big and long-term ideas; about sustainability and fashion. Entitled; SUSTAINABLE FASHION: THE WAY TO IMPROVE THE SUPPLY CHAIN, the following ideas and elements were up for discussion - steps along the long road towards resolving these evermore important issues for customers, industry and the planet:

Sustainability has become for all a priority, which closely involves not only the major fashion brands but also the supply chain.

  Consumers have established the agenda, increasingly directing their choices to those companies that prove to be transparent, traceable and responsible in terms of social and environmental ethics. Brands are adapting, imposing to their suppliers a net change of registry.

  A short workshop organized by 4sustainability at Pitti Filati will explain to the companies in the supply chain what steps they should make to win these challenges and remain competitive, given that both consumers and brands will judge the nature of their products as well as of their processes.

  The reduction of chemicals is an exemplary arena for confrontation. Companies, however, should get used to thinking in perspective, through the adoption of a structured plan of change management which also includes the necessary technical tools.

Trends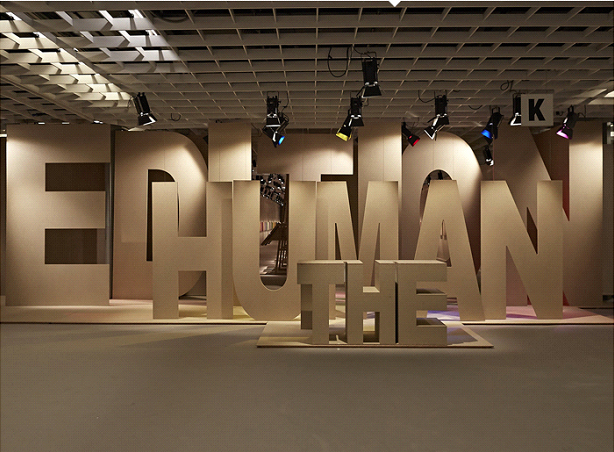 Simply, but boldly and stylishly laid out The Human Edition, took the ideas and theories of the late 19th and early 20th Century Austrian philosopher Rudolph Steiner and re-offered them as solutions and inspirations for dealing with contemporary life.

Something of a polymath, Steiner built on his first ideas outlined in The Philosophy of Freedom to incorporate ideas from Goethe and elsewhere. In a world already struggling to cope with post-industrial revolution fall-out, he tried to unite nature, science and spirituality, and embraced ideas about education, biodynamic agriculture, and what were then quite revolutionary ideas relating to health, environment, social care, diet and fitness, movement, dance and exercise. One of the best trend presentation themes at Pitti' for a good while, these huge ideas could be seen more as a direction for the next several decades than simply a set of seasonal fancies as the Pitti' precis below outlines their version of the philosophy:

The great MASTER who points the way is the inspiration for a group of colors and items that are beyond fashion: bold and comfortable shapes, meticulous finishes and without any references to styles or periods whatsoever. These are the new classics.

  A profound feeling for HUMANITY characterizes the next winter season: "humanity" in the sense of a genetic and cultural heritage handed down from our ancestors, that speaks of colors, shapes, and techniques. The shapes are soft, comfortable, subtly anatomic and organic and are made of warm, embracing fibers.

  Pure, "wild" NATURE offers gifts of great organoleptic value and extraordinary colors. Wildflowers and plants are the inspiration; unique experiments on uncommon plant fibers that can have important beneficial effects on both mind and body.

  MOTION is an integral part of communication. The sense of motion and the fusion of the brightest and complementary colors inspire lightweight and layered knits, where colors are created by these ethereal overlaps.

  A REAL sense of color conditions our choices as a reaction to the excessively artificial creations or visions that dominated the past few seasons. Primary colors are revisited and reinterpreted in a deep and material sense, with a preference for natural finishing treatments, dyeing process and raw materials.

  EATING sensibly is becoming less a matter of fashion and more of an issue of educated nourishment, a choice tied to specific preferences that combine the desire for wellness with sustainability. The theme paves the way for new color experiments on fibers to develop yarns with a green core.

These ideas are then developed into 8 sub-themes/directions: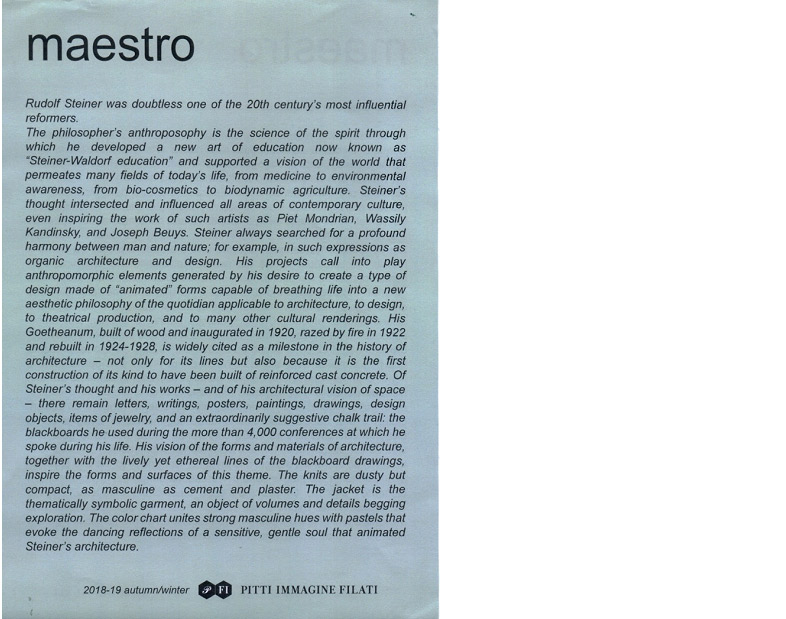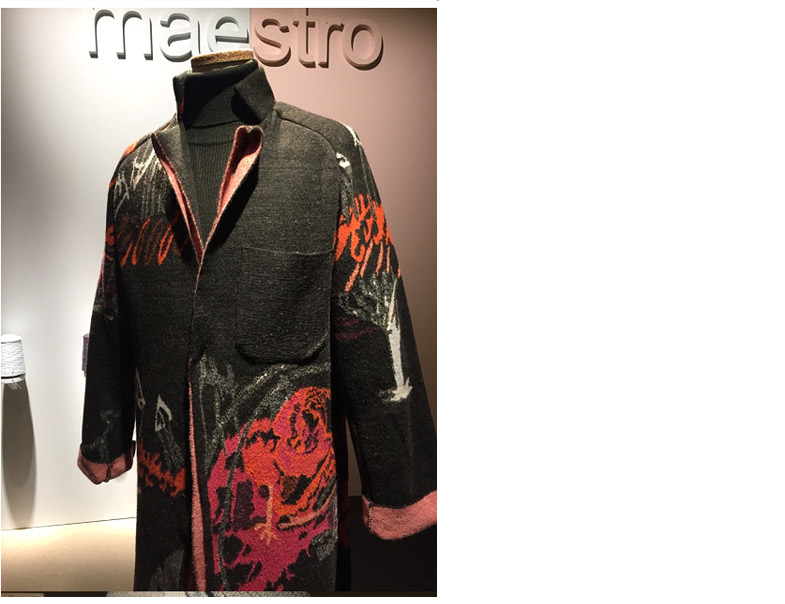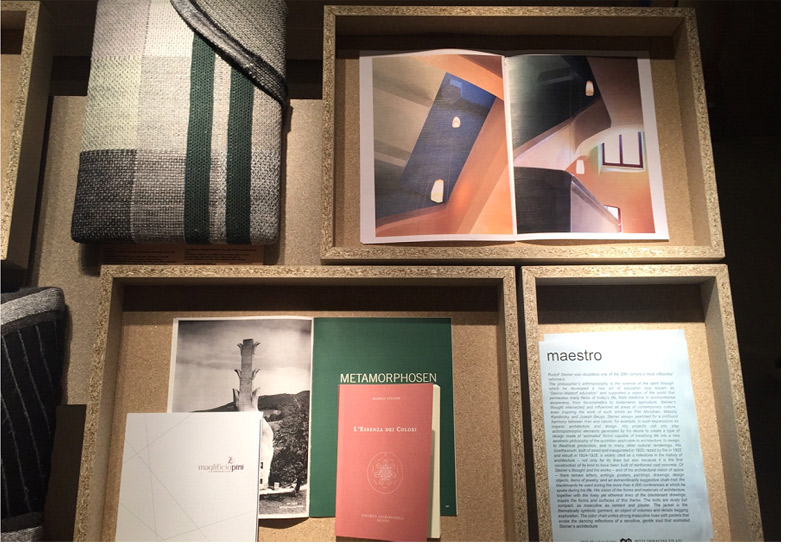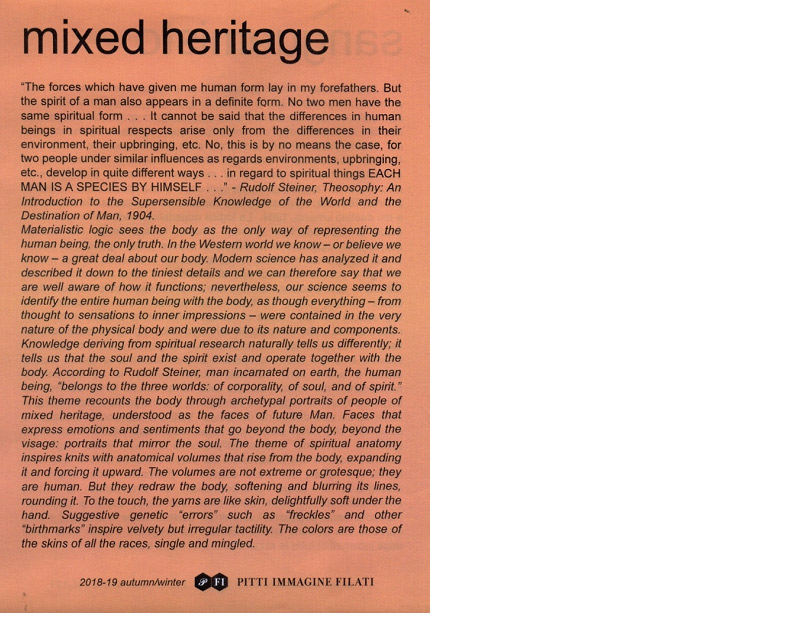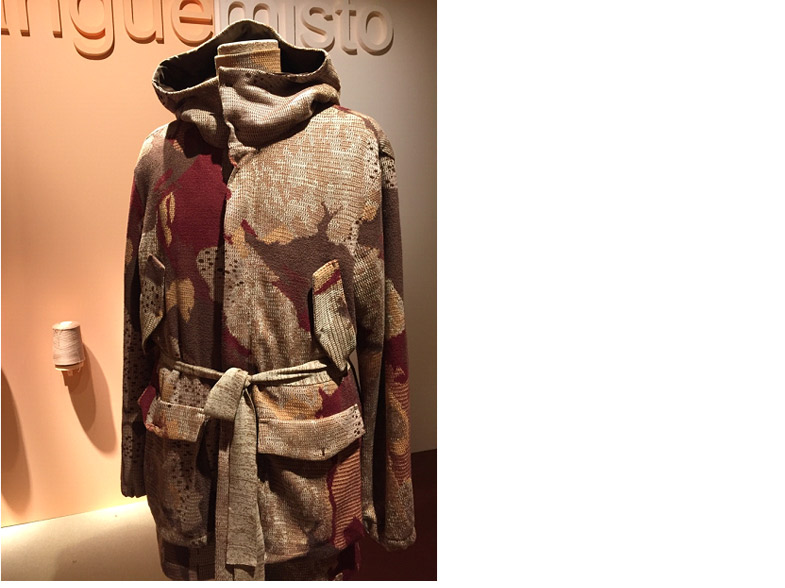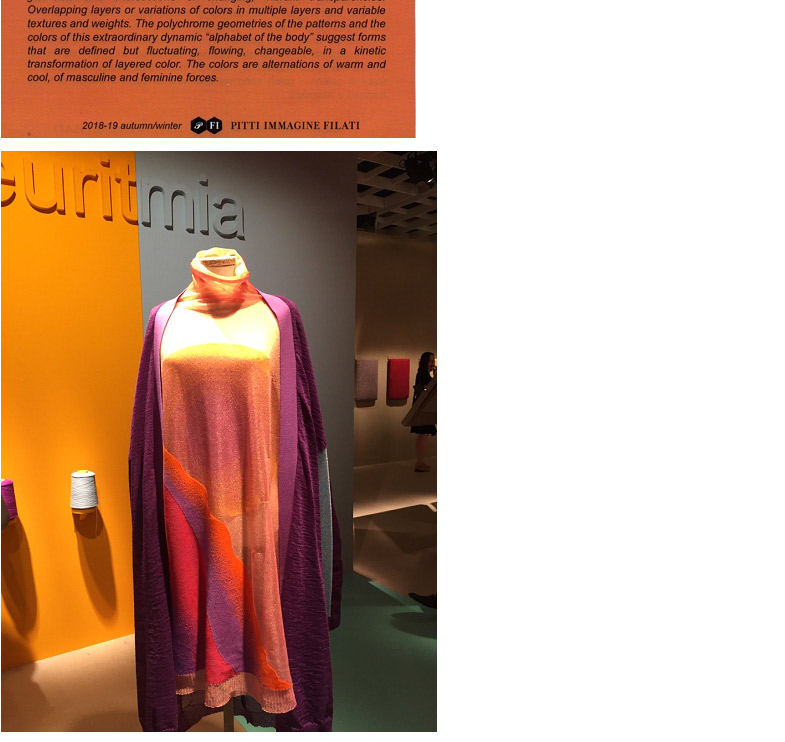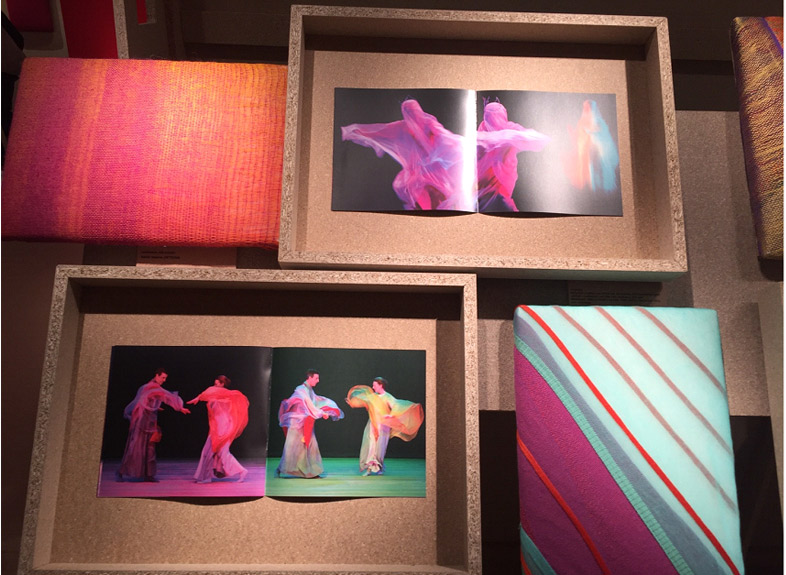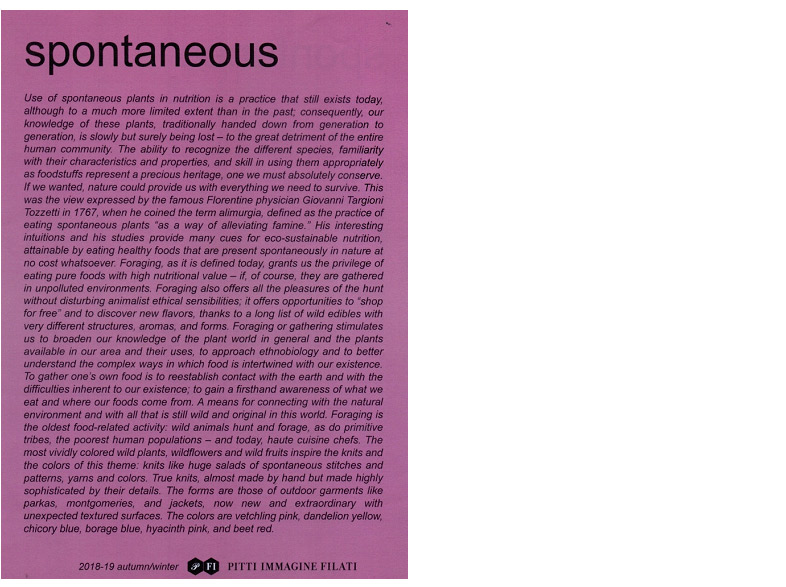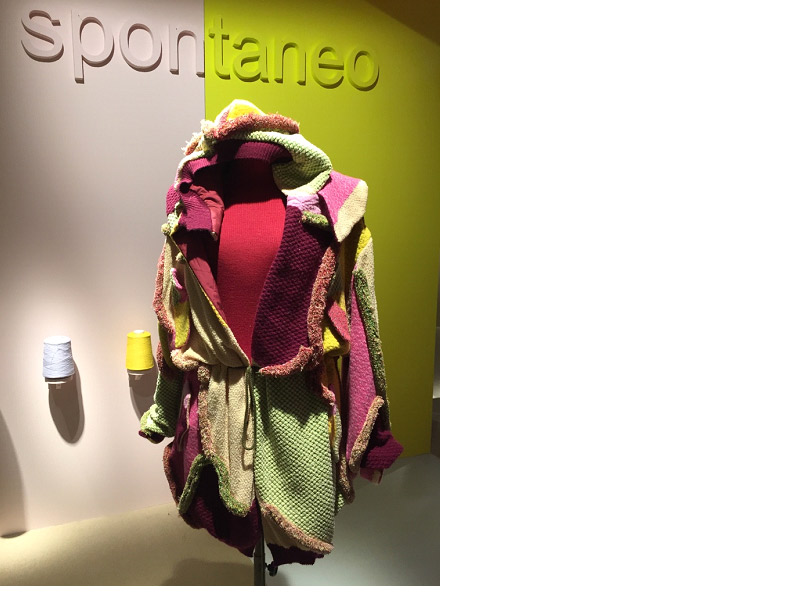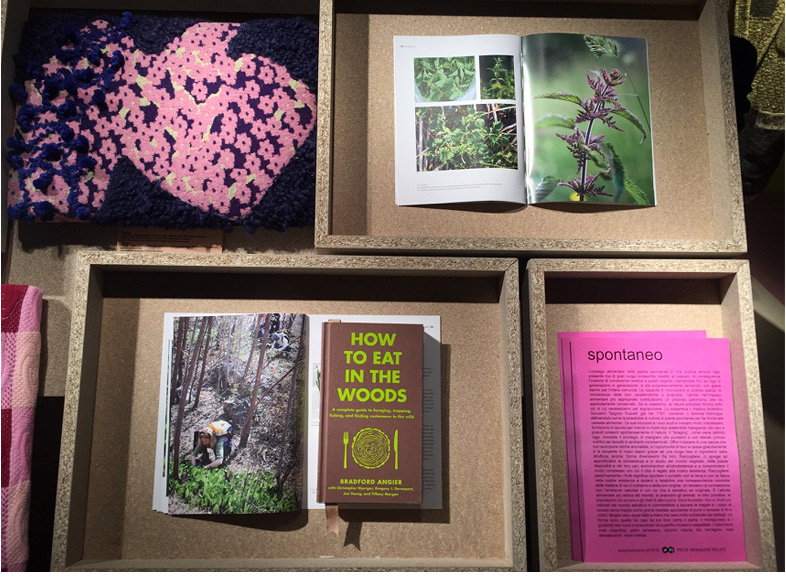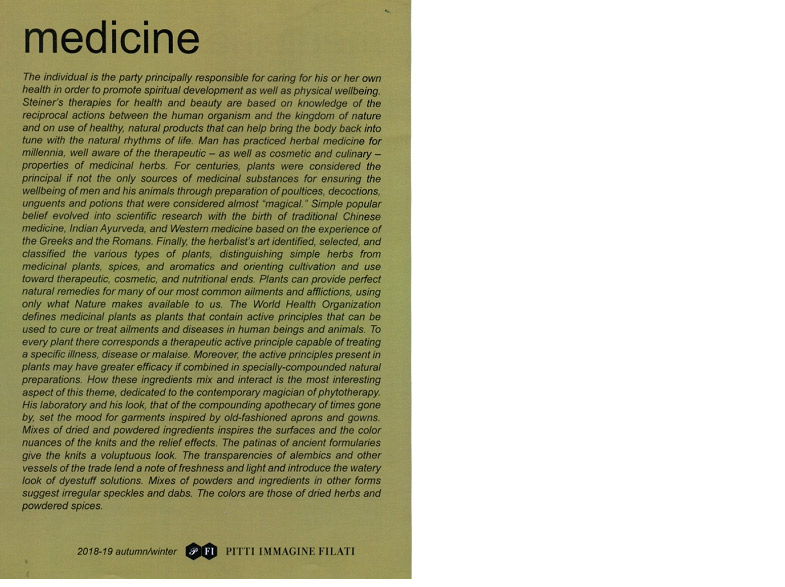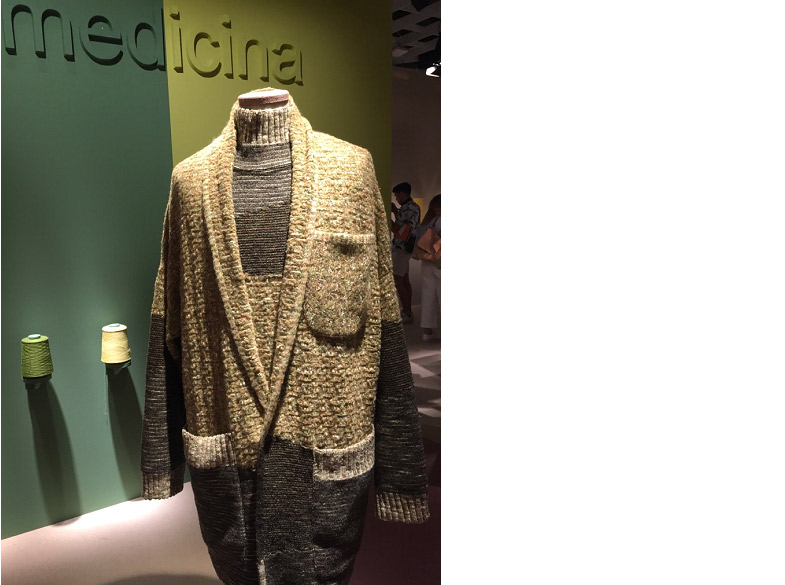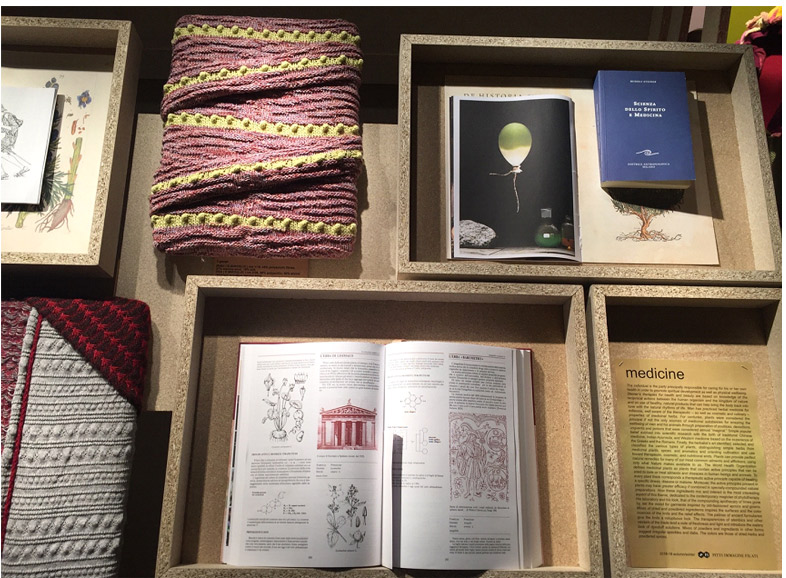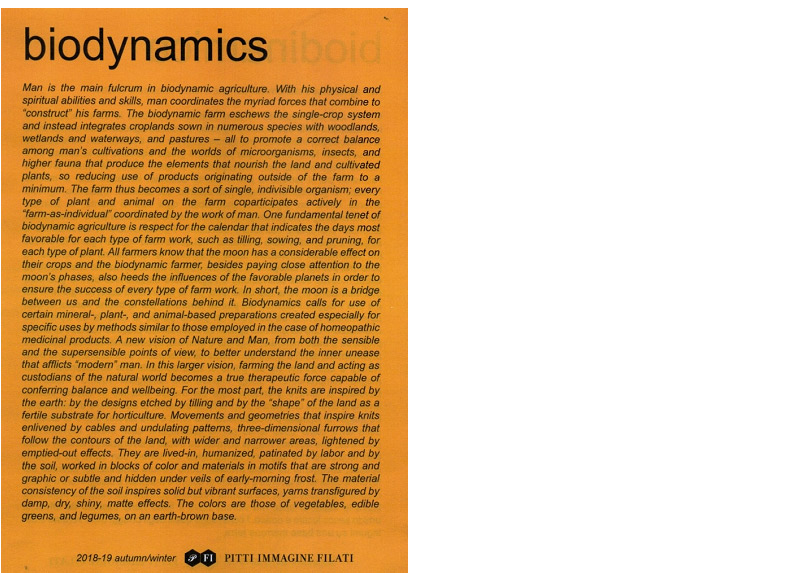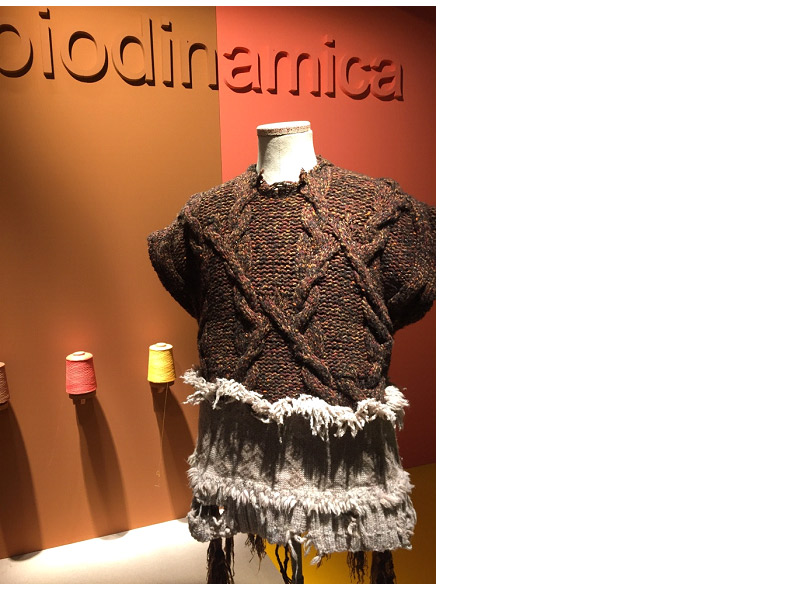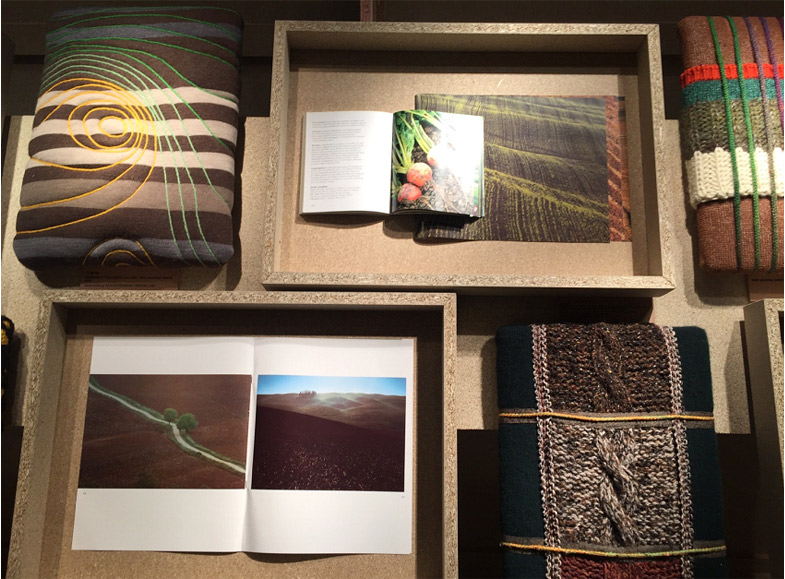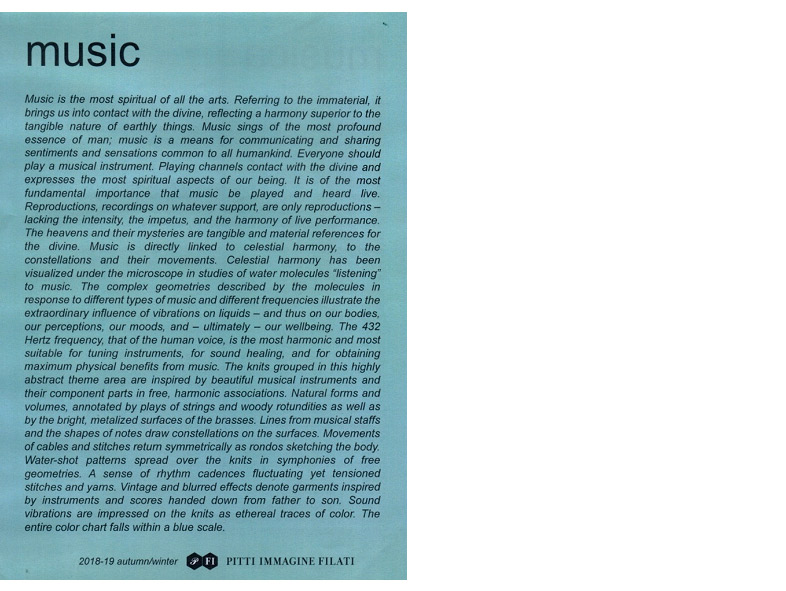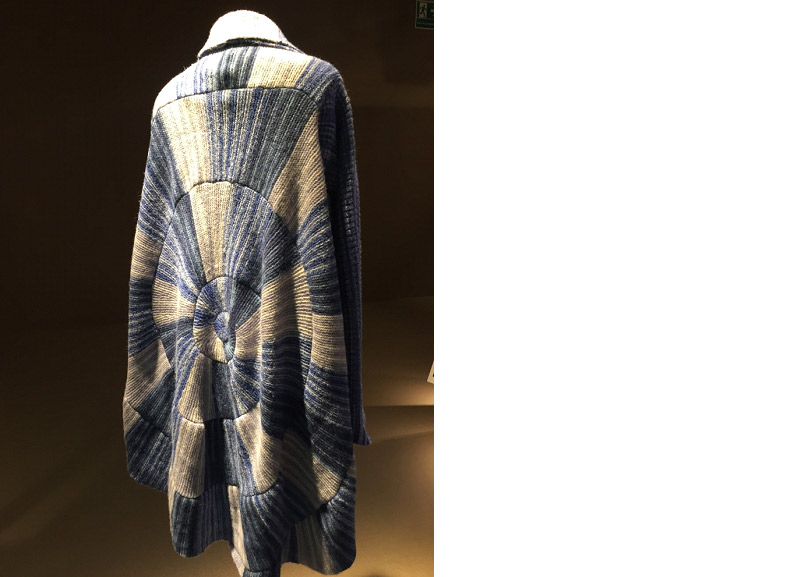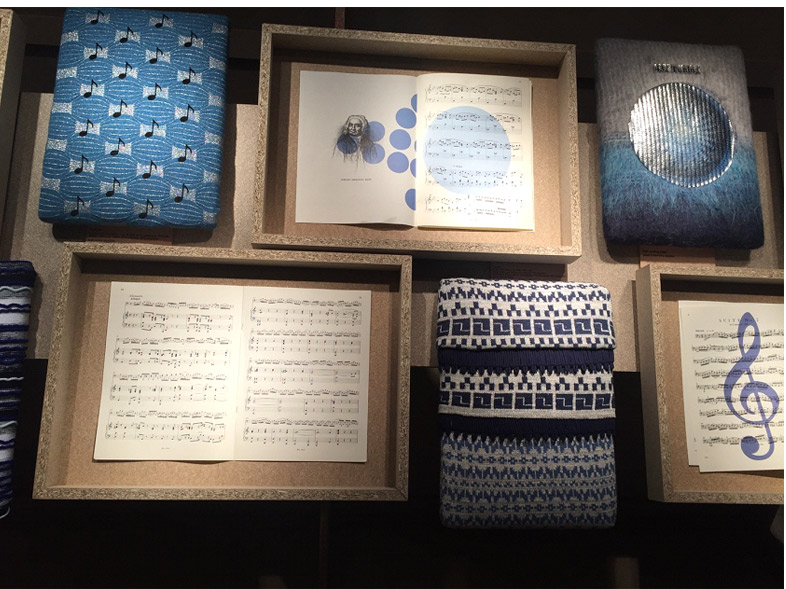 Colour

The 8 trend themes each inspire and invoke their own colour palettes;

maestro – The color chart unites strong masculine hues with pastels that evoke the dancing reflections of a sensitive, gentle soul that animated Steiner's architecture.

Echoes the popularity of traditional menswear colours; burgundy, deep forest green and our perennial favorite, navy blue.

mixed-heritage – The colors are those of the skins of all races, single and mingled.

Brown returns to fashion favour, alongside warm beige and honey tones.

doll – The colors are delicte pastels and natural hues, perfect for every little boy or girl within us.

A decidedly vintage pastel palette with the addition of the warm coral we are seeing shades of everywhere.

eurythmy – The colours are alternations of warm and cool, of masculine and feminine forces.

An optimistic group including marigold yellow/orange, tangerine, flame red, and a vivid purple, offset with pale cool jade and pale icy blue. spontaneous – The colors are vetchling pink, dandelion yellow, chicory blue, borage blue, hyacinth pink, and beef red.

A group of sharp mid-tones, offset with the deep red, pastel blue and palest pink/stone.

medicine – The colors are those of dried herbs and powdered spices,

The greens of recent seasons prevail slightly softened and offset with wine red, and berry colours.

biodynamics – The colors are those of vegetables, edible greens, and legumes, on an earth-brown base.

A rich saturated group, to mix with the neutrals in other colour palettes.

music – The entire color chart falls with a blue scale.

The popularity of blue continues, echoing authenticity in almost all its shades and nuances.

Fibre

The two most important fibres of the season are undoubtedly mohair and alpaca, whilst most spinners ranges including some representation of these seasonally key fibres, Mohair South Africa had a stand as overall promoting body for South Africa Mohair, and two companies dealt solely in alpaca; Michell, and Alpaca del Perú. The Pitti' website published an interview with Luis Torres director of PROMPERU Esportazioni asking him about future projects for the further promotion of alpaca wool worldwide:

27.06.2017. 'What projects/products are you bringing to Pitti Filati?

Peru is home to 80% of the world's alpaca population and farming of this animal provides a living for some 120,000 families in the rural zone in the Upper Andes. It is a driver for development for other activities in this area, making coordinated action to promote alpaca wool abroad a priority, with the premise that the market is the dynamic element for the entire production chain. In this scenario, PromPerú - the agency that promotes exports - and MINCETUR – the Ministry for Foreign Trade, in coordination with the Peruvian alpaca industry, have drawn up a plan of action for promoting alpaca on the international market. Participation in Pitti Immagine Filati has the aim of promoting the Alpaca Perù brand, which wants to position Peruvian alpaca on the luxury market as a natural fibre from Peru and raise awareness of its fine qualities and production chain.

  What does this chance to take part in Pitti Filati mean for you?

Pitti Filati is a priority platform for promotion of alpaca. We believe that it will allow us to interact with visiting fashion sector specialists from all over the world.

  What is the greatest satisfaction for those who do your job?

The noble characteristics of alpaca products, its natural, exotic character, as well as its rich content of culture and tradition, make this product a unique tool for strengthening the image of Peru abroad. It must be highlighted that alpaca is considered to be our country's flagship product.

  Your next goal?

To position alpaca as a luxury fibre, usually found in a medium, medium-high market segment. To promote the added value of the alpaca production chain in exports'.

The look of the season is undoubtedly overwhelmingly of natural appearance. Wool and warm woolly-looks sit centre stage. Mohair and Alpaca add the fashion elements, poliamide and polyester add lightness, and performance values. Cotton adds trans-seasonal qualities. Silk adds luxury elements and is rediscovered for its thermal qualities, also adding polish and shine, sometimes contributing towards drape and behavior. That silk also takes colour so well makes it perfect in some of the seasons deep saturated shades.

Yarn

No surprises, but plenty of delights this season; the pile and teddy fabrics we fell for last fall-winter continue big time ! The other big stories of the season are the Felted, Blurred, Dense & compacted surfaces continuing strongly supported by Tweed and Twists yarns with Neps and Slubs, with Multi-end twists for colour-mixes, and matt & shine mixes, all ingredients set for a texture-rich season.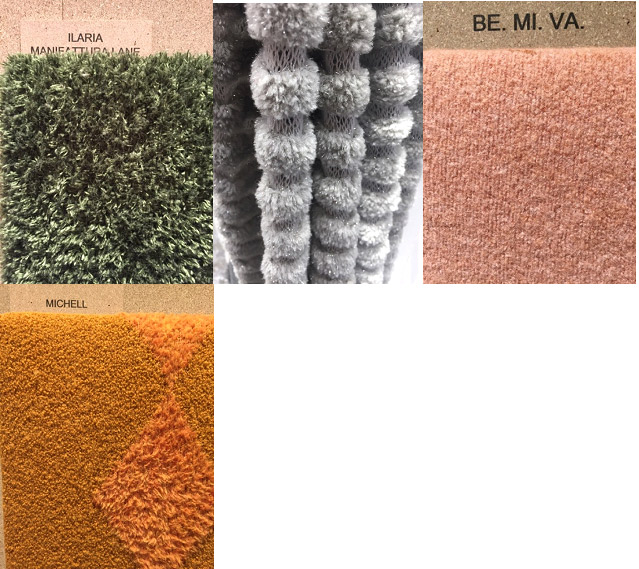 Fleece and Pile effects - subtle felted and blurred effects and light, lofty, furry, teddy and pile effects. Eyelash yarns, ladder structures, and new chenille-type pile effects interpret the velvet and velour trends we've been seeing on the runways.

Really shaggy versions make extravagant trims and accessories. Fun lively coloured versions, and faux natural fur looks.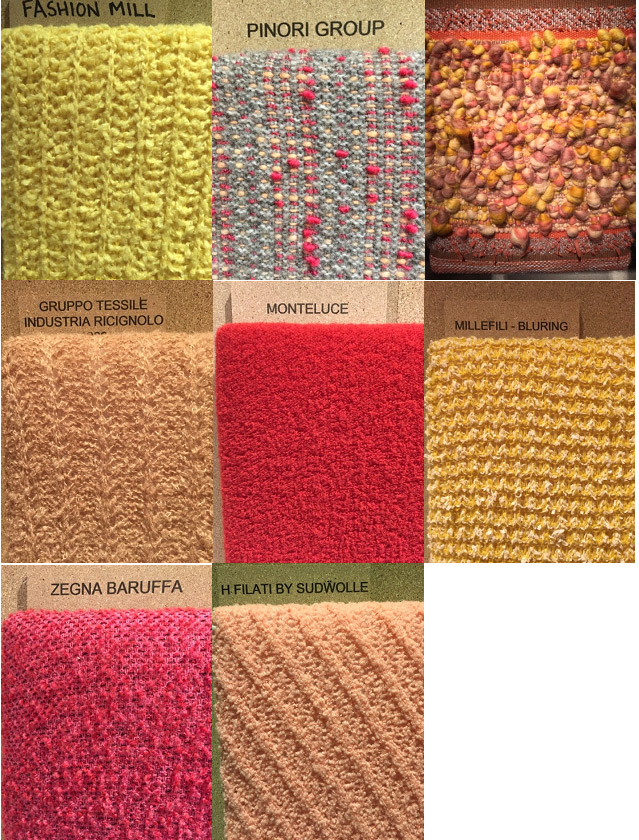 Boucle, Loop, and Poodle-type yarns add texture and lofty effects. Larger gauge versions crossover with the furry/teddy trend. Brushed versions can be blurred and soft, with the subtlest colour and heather mixes.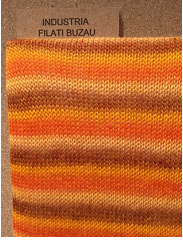 Space-dye and Ombré effects - add to the rich colour effects we're also seeing in tweed and twist yarns. Colour combinations are ever-subtler and richer.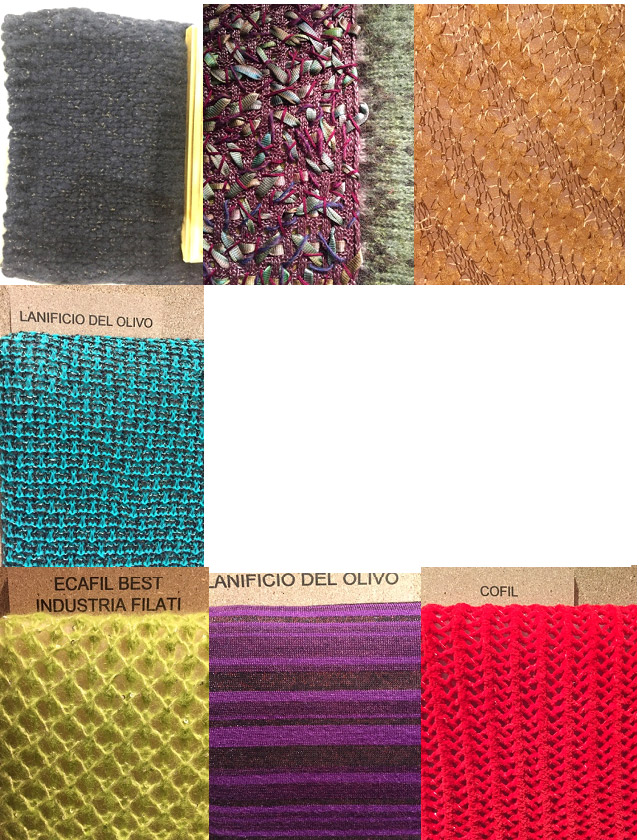 Lofty Chunky yarns achieved with new blends and state-of-the-art hollow and air-spinning techniques. 3g and 1 1/2g handknit looks have the high-fashion element we all love, but spinners are also coming up with more commercially viable 5g versions too.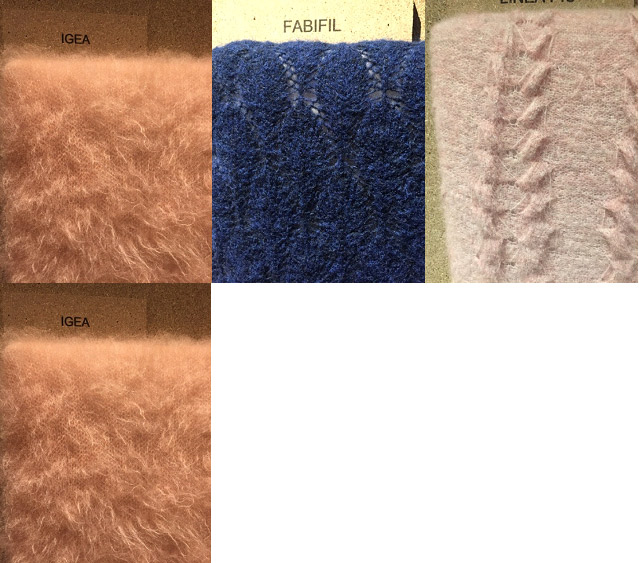 Super Kid Mohair and Mohair blends for light whispy effects and alternative blurred and fuzzy looks. We've seen masses of mohair from key designers on the runways and much of the resistance to the hair and fluff appears to have waned in the enthusiasm for neo-feminine, dressing up and fun colour effects.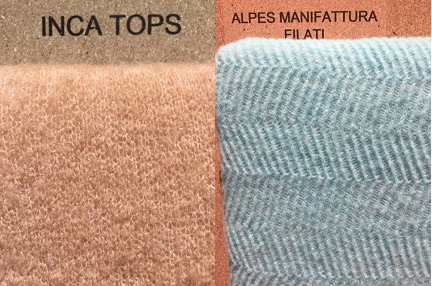 Alpaca - the softness and polish of this luxury fibre, gets a contemporary makeover and gains importance in the new lightweight Baby alpaca and blends that appear at all levels.

Dense-look, Lofty, Felted and Mousse-types are fresh again in new ultra-light versions. Solid saturated colour versions, subtle melange versions.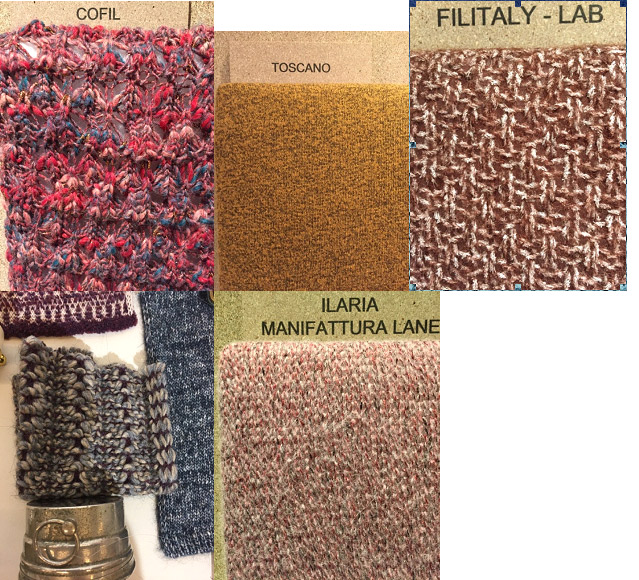 Tweed - perfect for new country/urban fusion looks - Pepper & Salt effects, Granular and Grainy aspects and Twists & Multi-ended effects combining mixed fibres and mixed textures, including Matt & Shine effects.

Coloured neps – and Slubs add Colour, Texture and Vitality.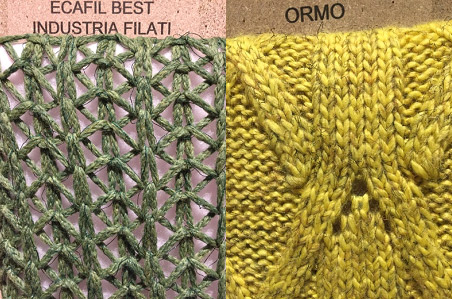 Subtle Heather, Mélange, Broken, and Mouline effects abound, perfect for those subtle vegetable-type colours and for making the most of low-key luxury softness.

New over dyed effects on natural mélange colours create subtle new heather colours for worsted and semi-worsted yarns, including Wool and Cashmere and blends. The look is very natural, often with a vegetable dyed tonal softness.

Simple rounded looks - give clean stitch definition, perfect for making the most of the seasons myriad knit textures and hand-crafted looks.

Structure & Pattern

It's very much a yarn-led season, using yarns simply knitted in plain jersey creates interesting fabrics, but Texture is the continuing story this season, emphasized and exaggerated with an array of stitches and patterns.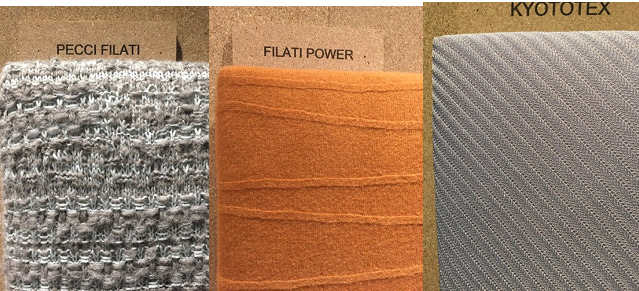 'Non-plain Plain Fabrics - Neat Repetition - Compact structures, the pique effects of summer evolve ..... Honeycomb and Waffle, Ottoman and Needlecord effects. Subtle two-colour versions include neat Birds Eye and tonal Micro checks.

Simpler Structures across all gauges are further enhanced with extra details that look expensive and refined - marvelous fashioning features, subtly special trims, clever details, couture inspired buttons, etc.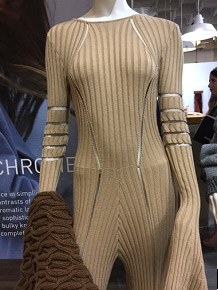 Pointelle and Intricate fashioning, add interest through shaping and darting details.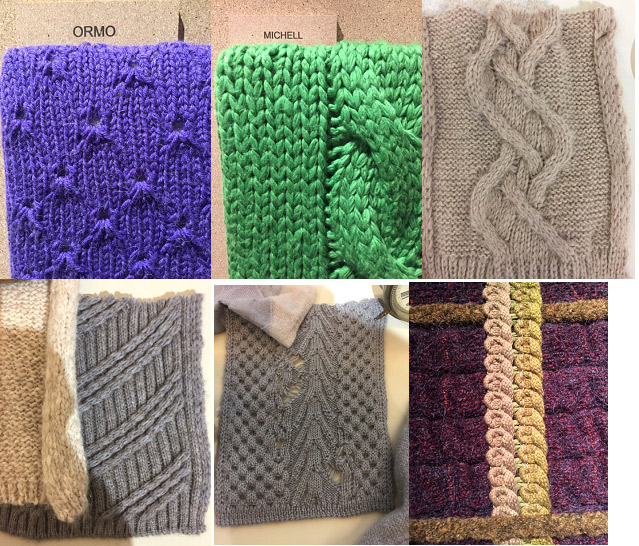 Cable patterns. Not necessarily symmetrical or, conventionally vertical; the new Aran and cable sweaters, mix patterns in new and inventive ways. Free-er style cables have an organic 'growing' feel, deconstructed versions, and clever plays on rightside/wrongside.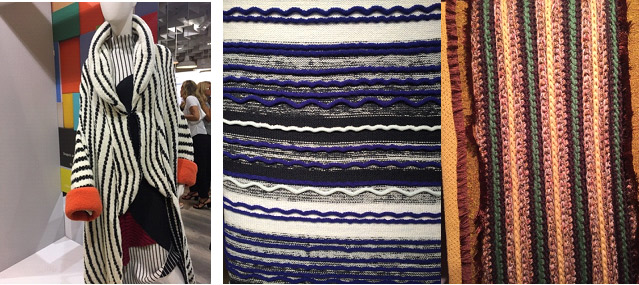 The new Graphic tweeds and Jacquard wovens inspire knit interpretations.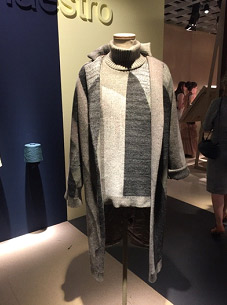 Bold Graphic Stripes –Block Stripes and deflected Optical Stripes. Interrupted Stripes and Giant Stripes as Colour Blocks.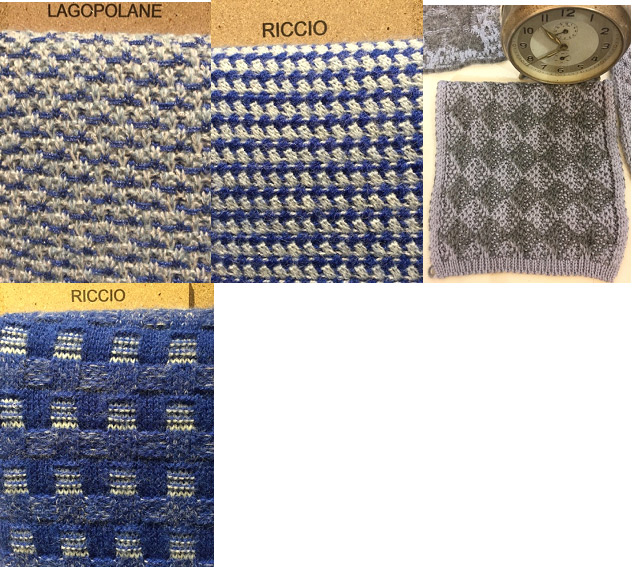 Herringbone and Zigzag patterns of all scales, tuck and ripple stitches for single colour versions - as Non-plain, plain Fabrics - Classic Woven inspired tone-on-tone versions may employ solid colour yarns subtly contrasted with heather and mélange effects.

Shine and Shimmer and Subtle Sparkle - add a contemporary element to classic and traditional patterns.


Big-scale yarns lead to expressive large-scale patterns and colour blocks - Figurative & Novelty intarsia patterns reflect what is happening on the runways in large scale print and embroidery embellishments.

Reverse Intarsia techniques - update simple large scale retro geometrics and add a funky irreverence to classic patterning such as Argyle and Fair lisle/Jacquards.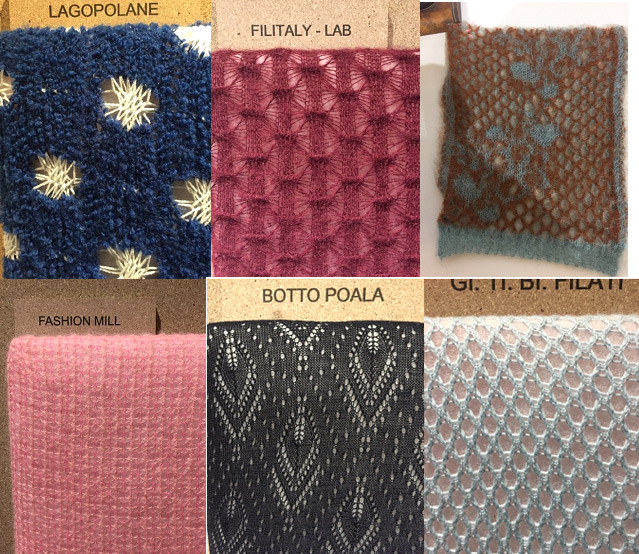 Lace and Open Stitches - from simple mesh effects to vintage inspired sheers in transfer lace, tucked lace and drop-stitch patterns. - but also think of lace prints as an alternative to structures, or Lace trims, details and embellishments.

Crochet – has become trans-seasonal and another way to introduce lace effects, open-work patterns and big scale motifs for whole garments, borders and trims.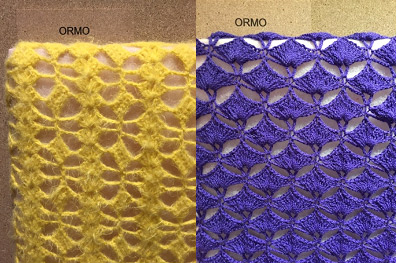 Macramé - continues its summer revival into autumn for textural trims, details and accessories as part of the craft and handmade trends.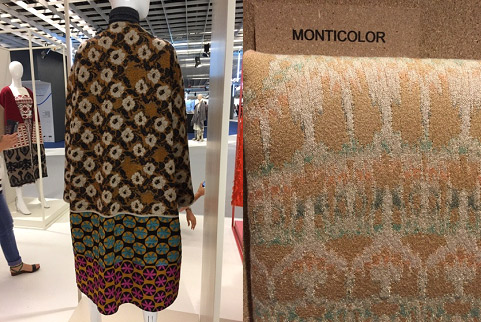 Handmade-look multi-technique garments - incorporate mixes of Knit, Crochet, Macramé and even woven laces and fabrics, for a rich play on texture and surface interest. Double jacquard, rich pattern mixes. Mixed scales and patterns for Folksy, Craft-enriched looks.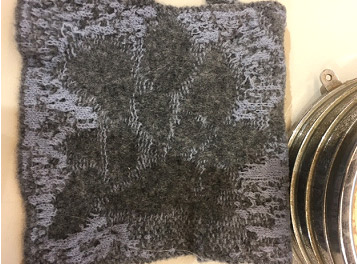 Double-faced - fabrics pick up from catwalk trends - Think 2 Colours or subtle Two-Tones or contrasting Textures/Surfaces.

Pleating, Plisse, Bubble and Blister effects - seen on the catwalks, are interpreted as ribs and tuck and holding stitches.

Trims and Finishes are given due consideration to update classics and move simple easy to wear garments forward.

Matt & Shine Stripes - mix yarns or use right side and reverse jersey for simple Damask effects.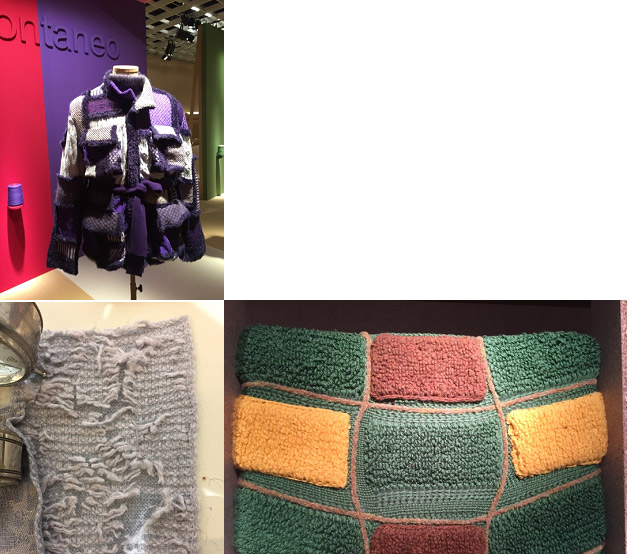 Patchworks an d Sampler effects - think areas and blocks of different stitches and textures, sometimes stitched into or multiples of components; squares, hexagons diamonds etc. Play with direction, right side/reverse side, surface effects and colour. Mix knit and woven fabrics in creative sophisticated ways. Or Crochet Garment Pieces Together to accent construction and geometry with a Handicraft or Folksy look. Deconstructed looks and visible construction/exposed seams, etc.

Simple Crochet Trims - for pretty details and vintage charm or minimal piping effects.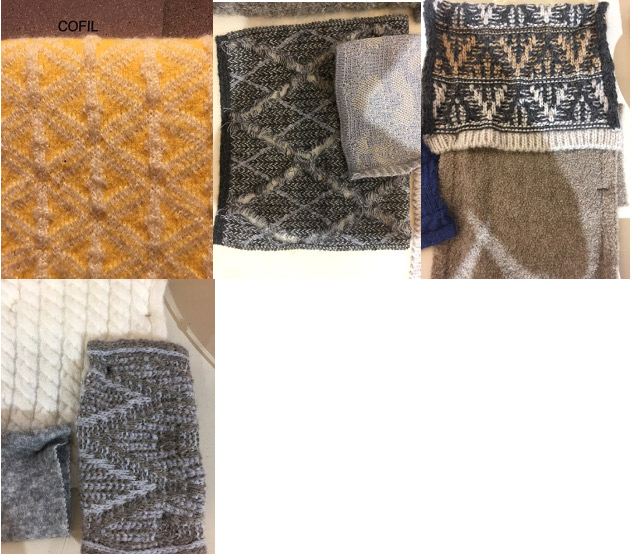 A bevy of checks and plaids on the catwalks spur infinite knit interpretations - Shepherds Checks, Estate Tweeds, Hounds Tooth, Prince of Wales, Tartan and Plaid Patterns or Grid and Graph Patterns. BIG scale versions are BOLD and funky.

Heather and Mélange yarns - update solid colour Block or Fine Stripes, with combinations of Solid and Mélange/Heather colour. Texture and surface interest is important



Open, Ladder, Tucked and Drop Stitches, two-colour tuck stiches create tweed/textile looks or create open lacy fabrics - utilise drapey yarns to make them sheer and sophisticated.

Smocking, Gathering, Sheering and Rouched effects - control volume and fullness - Influences from Vintage and from Lingerie.

Pin Tuck and Pleated effects - inspiration comes from Dress Shirts and Dickey Bibs.

Sheer Transparent and Gauze effects - use the new ultra-fine yarns or knit 'off-gauge'.

Photo prints - nature and flower inspired make good transition pieces as continuations of summers abundant florals – or new conversational prints.

Flocking - the opulent velvet and brocade effects of Fortuny and Venice.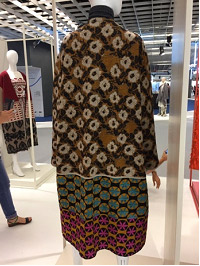 Multiple techniques – stitch effects, prints, embroidery, applique and embelishments – everything combines to create rich surfaces, pattern and colour mixes.